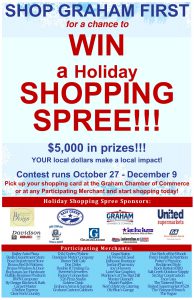 The 4th Annual Shop Graham First Holiday Shopping Spree event is here! Have you heard of this  great program called Holiday Shopping Spree right here in Graham, Texas?   Sponsored by the Chamber of Commerce and Shop Graham First, Holiday Shopping Spree encourages patronage to local stores and businesses in Graham.  Last year the Chamber received almost 2,500 completed cards with each card representing $300 each. That equates to a grand total of $740,700 spent locally.
J&N Feed & Seed is a participating retailer.  Stop by and pick up your Holiday Shopping Spree card today and start shopping in Graham!
Here's how it works:
Shopping cards available at participating merchants and the Graham Chamber of Commerce.
Shoppers will receive a punch for every $, $10, or $20 pretax purchase at the participating merchants.
Completed punch cards to be delivered to the Chamber and shoppers receive ONE ENTRY for every completed card.
THIRTY WINNERS will be selected from a drawing on Friday, December 9th for  prizes including $50, $100,  $250, $500, $750 and $1,500 shopping sprees to multiple participating merchants and or sponsors of their choice.
Experience the holidays with all the hustle and bustle at our Holiday Shopping Spree and wrap up all your shopping in Graham, at over 50 participating retailers.
Bring your completed card to the Graham Chamber of Commerce  to be entered into a drawing for one of THIRTY Holiday Shopping Sprees:
1 – -$1,500
1 –  $750
1  – $500
2  – $250
10  – $100
15  – $50
J&N Feed and Seed is a proud member of the Graham Chamber of Commerce and a proud participant of the 4th Annual Shop Graham First Holiday Shopping Spree.