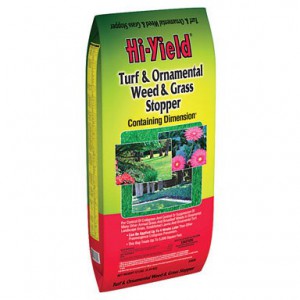 Regardless of what the ground hog says, spring is right around the corner and it's time to think about spring weed control.  With the warm winter we've had, it's time to apply pre-emergent for your yard. You have about a six-week window to apply pre-emergents, from the first of February to the middle of March.  There are three factors that will determine when a seed will germinate: soil temperature, moisture, and sunlight. The pre-emergent must be applied and active BEFORE that magic moment of germination occurs.
At J&N, our pre-emergent of choice is Hi Yield Turf & Ornamental Weed & Grass Stopper.  We've got two sizes: the 12# bag that covers 3,000 sq ft and the 35# bag that covers 10,000 square feet.
Hi-Yield Turf & Ornamental Weed and Grass Stopper contains dimension pre-emergent, which provides superior control of crabgrass as well as control or suppression of other listed weeds when applied before they germinate. It also provides post-emergent control of crabgrass only, and is effective on crabgrass up to four weeks after it has germinated and emerged. Do not apply this product later than four weeks after crabgrass has germinated.
If you prefer an all-natural approach to weed control, try corn gluten meal. It is available in both granulated and powder form and it is applied at a rate of 20 pounds per 1,000 square feet.
The key to success with these products is to apply the correct amount to your lawn.  Follow the label directions and know the square footage of your lawn.